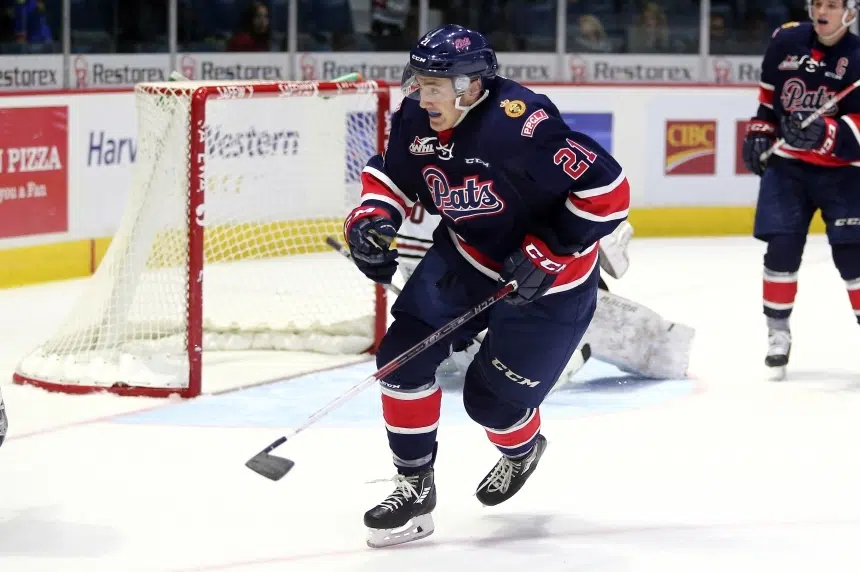 The Regina Pats ended their western road trip Saturday night with a 3-2 overtime loss to Kelowna.
The teams remained evenly matched throughout the contest, with no scoring in the first period of play.
It was the Pats and Nick Henry who started the scoring in the second period while the team was on a 5 on 3 powerplay. He was assisted by Connor Hobbs and captain Adam Brooks, who is riding a 17 game point streak.
The Rockets tied things up about four minutes with a powerplay goal from Thomas Soustal.
Kelowna got ahead in the third period, striking first against Pats goalie Tyler Brown.
Things were tied up by Lane Zablocki on a 2 on 1 breakaway, taking the teams into overtime.
About three minutes into the extra frame Kole Lind beat Brown for the win.
Brown saved 31 of the 34 shots he faced in Saturday's contest, coming off a Friday night shut out.
The Pats were 3-2-1 on their western road trip, and sit third in the overall WHL standings at 17-2-4. The Pats still remain atop the east division standings.
The Pats return to home ice on Dec. 3 and play the Prince Albert Raiders.